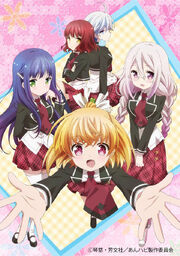 The anime adaptation of Anne Happy♪ (あんハピ♪, Anhapi♪?) produced by the studio Silver Link that started broadcasting on April 7th, 2016. Punch Mind Happiness is the opening theme, with the ending being, Because Tomorrow is Good.
Director: Shin Onuma
Writer: Hitoshi Tanaka
Character Designer: Miwa Oshima
Music: Monaca
Studio: Silver Link
Network: AT-X, Tokyo MX, SUN, KBS Kyoto, BS Fuji
No.
Subtitle
Original Air Date
1
April 7: An Unfortunate First Day of School
(

4月7日 不幸な入学初日

)
April 7, 2016

While on her way to her new high school, Ruri comes across the perpetually happy girl, Anne, and helps her from the bridge she is hanging from. To their delight they are in the same class- only to learn that Class 7 is filled with unfortunate students who must strive to obtain Happiness. The class is then tasked to take care of an egg without breaking it.

2
April 11: The High-Tech Physical Exam
(

4月11日 ハイテクな身体測定

)
April 14, 2016

The girls meet Timothy, a rabbit guide to the school while they make their way to a physical exam. After they go through the exam the girls decide to try out for various clubs to find one suited for them each. After everything finally settles they attempt to come to a decision as to what to do.

3
April 28: My First Happiness Training
(4月28日 はじめての幸福実技)
April 21, 2016

Class 7 is tasked with partaking in an overly elaborate life-sized board game and compete against Hibiki and Ren, a pair of childhood friends. But after both teams are put into an infinite loop and eventually battle it out to determine who will come in last place.

4
April 29: A Mysterious Penalty
(4月29日 ナゾナゾな罰ゲーム)
April 28, 2016
Hanako, Ruri, and Botan must take pictures of their "Lucky Items" as a penalty. But along the way they are joined by their rivals; with Ren's natural "gift" providing them help in locating Hanako's lucky item. Only for them to get lost in a flower maze afterwards.
5
May 9: Getting Lost on the Way to School
(5月9日 迷子の登校風景)
May 5, 2016
As Hibiki tries to locate school on her own she comes across the other girls as they make their respective commutes. However, she gets sidetracked with the idea of blackmailing Ruri over a misdirected grudge; until she comes across her kindergarten and remembers how she fell in love with Ren. She then must decide whether to follow through with her plans or not.
6
May 30: A Field Trip With Everyone
(5月30日 みんなで遠足)
May 12, 2016
The Class go on a trip to the mountains- said to contain several lucky power spots. A trip that proves to be very unlucky for Anne.
7
June 28: Visiting Hanako (6月28日 はなこのお見舞い)
May 19, 2016
The Class is taked with making their wishes come true but Hanako comes down with a fever. In this time, Ruri and Botan meet her mother, Sakura, who used to be in Class 7. After seeing that Hanako is still absent they make some teru teru bozu to wish for the rain to come to a stop.
8
July 11: Fighting Final Exams
(

7月11日 戦う 期末試験

)
May 26, 2016
With final exams approaching, Class 7 is challanged by a test taking place with the use of a virtual program where they must play multiple games in order to determine their scores. After, Timothy leads them to a fighting arena where everyone must steal points from each other. After hearing of Botan's wish for them all to spend time together during summer, they work together to defeat Kodaira, their final challange.
9
July 13: A Stormy Group Lesson
(7月13日 波乱の合同授業)
June 2, 2016
The girls partake in a cooking class taught by the strict teacher, Saginomiya, who seems observant of the misfortunes of Class 7. Anne and Botan arrive in an attempt to cheer Ruri up after something ruins their group dish. The next day they attend a swim class, also watched by Saginomiya, but after Anne gets stuck in the pool the others attempt to save her from the terrible storm cast above them. 
10
July 20: Our Summer Vacation
(7月20日 私たちの夏休み)
June 9, 2016
With Summer Vacation starting the group visit a Karaoke Box together, along with Timothy. The next day they bump into a mysterious girl before heading to an indoor beach built by Botan's sister, then off to the summer festival but a bunch of strange, scary accidents start to occur!
11
August 18: A Stormy Outdoor School
(

8月18日 嵐の林間学校

)
June 16, 2016
Class 7 goes on an outdoor school trip and enjoy various things such as sports and art activities. But in this time an extreme game of tag breaks out, where the girls must find their wood carvings and reunite while avoiding Kodaira, Timothy, and an army of Mini-Timothys!
12
August 19: A Happy Outdoor School
(

8月19日 幸せな林間学校

)
TBA
Ad blocker interference detected!
Wikia is a free-to-use site that makes money from advertising. We have a modified experience for viewers using ad blockers

Wikia is not accessible if you've made further modifications. Remove the custom ad blocker rule(s) and the page will load as expected.